We are at Booth #2615
1. Kick the tires of a brand new technology in action – product demo of PrimaryIO APA. VMware's Virtual Data Services VAIO platform will be available in the next ESX update. The technology allows IO optimization software to work natively within ESX environments delivering services like caching and replication. VAIO allows a clean integration between the virtual machine, ESX, vCenter and other entities in virtual infrastructure making it easy and safe to deliver value added services.
2. Discover a radical way of managing application performance. Whether you are running HDD, Hybrid or All Flash, SAN latencies can and will kill performance for many applications. Learn how you can get predictable performance for your tier 1 applications with techniques that allow table, index level optimization for databases. Learn the pros and cons of block/LUN level caching vs application aware optimization.
3. A chance to participate in an Early Access Program which will allow you to try PrimaryIO APA for VMware on our infrastructure.
The screenshot below (click on it for a higher resolution image) shows how a database administrator would use PrimaryIO APA to manage application performance – the dashboard presents application level improvements in terms of transactions per second (TPS) or queries per second (QPS). Detailed drill downs are available for advanced use cases.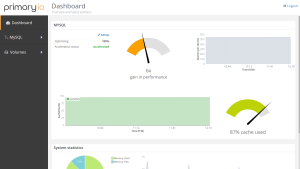 The next screen shows the vCenter view for the VI Admin. VI Admins can provision cache and set storage policies which include PrimaryIO APA via SPBM. VI Admins can select arbitrary virtual machines without caring about what application is running within them and turn on policies.